This page and connecting pages contain the information/ideas of the user  Predacon Blazer.         
The Ninja Nexus Force is a Elite Faction in LEGO®Nexus Adventures  that focuses on combat skills and strength.They are led by the noble Lloyd Garmadon, who proved his strength and bravery at the tournament that decided who was brave enough to be leader.Their H-Q is located next to Nexus Tower but which is known as Ninjago Elite Tower.But If you earn a achievment from the Ninja,you get a level of Gear.

They are the main elite fighting force of the Nexus Force.
Faction Members.Edit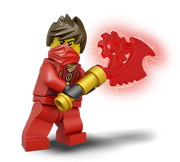 Levels of Gear
Level 1 Gear
Edit
1st Achievment-Level 1 Imagination Blade
2nd Achievment-Level 1 Imagination Robe
3rd Achievment-Level 1 Imagination Shoulder Pads
4th Achievment-Level 1 Imagination Knee Pads
5th Achievment-Level 1 Imagination Ninja Mask
Level 2 Gear
Edit
1st Achievment-Level 2 Imagination Blade
2nd Achievment-Level 2 Imagination Robe
3rd Achievment-Level 2 Imagination Shoulder Pads
4th Achievment-Level 2 Imagination Knee Pads
5th Achievment-Level 2 Imagination Ninja Mask
Level 3 Gear
Edit
1st Achievment-Level 3 Imagination Blade
2nd Achievment-Level 3 Imagination Robe
3rd Achievment-Level 3 Imagination Shoulder Pads
4th Achievment-Level 3 Imagination Knee Pads
5th Achievment-Level 3 Imagination Ninja Mask
Level 4 Gear
Edit
1st Achievment-Level 4 Imagination Blade
2nd Achievment-Level 4 Imagination Robe
3rd Achievment-Level 4 Imagination Shoulder Pads
4th Achievment-Level 4 Imagination Knee Pads
5th Achievment-Level 4 Imagination Ninja Mask
Level 5 Gear
Edit
1st Achievment-Level 5 Imagination Blade
2nd Achievment-Level 5 Imagination Robe
3rd Achievment-Level 5 Imagination Shoulder Pads
4th Achievment-Level 5 Imagination Knee Pads
5th Achievment-Level 5 Imagination Ninja Mask
Level 6 Gear
Edit
1st Achievment-Level 6 Imagination Blade
2nd Achievment-Level 6 Imagination Robe
3rd Achievment-Level 6 Imagination Shoulder Pads
4th Achievment-Level 6 Imagination Knee Pads
5th Achievment-Level 6 Imagination Ninja Mask
Level 7 Gear
Edit
1st Achievment-Level 7 Imagination Blade
2nd Achievment-Level 7 Imagination Robe
3rd Achievment-Level 7 Imagination Shoulder Pads
4th Achievment-Level 7 Imagination Knee Pads
5th Achievment-Level 7 Imagination Ninja Mask